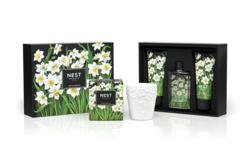 New York, NY (PRWEB) March 27, 2013
NEST Fragrances, a leading designer and manufacturer of luxury scented products for the bath, body and home, introduces an indulgent new collection for spring, White Narcisse. A sophisticated fusion of fine art and fine fragrance, the limited-edition White Narcisse Collection debuts in a Luxury Scented Candle and three personal care products, including Body Wash, Body Cream and Body & Soul Eau De Toilette Spray.????????
?After seeing the floral artwork I commissioned for White Narcisse, I was inspired to create another NEST scent that would translate beautifully into both a personal and home fragrance,? said Laura Slatkin, Founder, Creative Director and CEO of NEST Fragrances. ?The sheer beauty of the artwork is matched by the intoxicating, modern white floral fragrance; I am so excited that White Narcisse is debuting in April?just in time for spring hostess and Mother?s Day gift-giving!?
White Narcisse is an elegant fragrance composed of white narcisse blended with hints of French mimosa, dewy muguet and creamy sandalwood. Featuring original artwork by Russian artist Alexander Solodukho, the White Narcisse Collection products are available for purchase separately, and the personal care items are being offered for purchase together in a chic, luxurious gift box. The White Narcisse Candle is housed in a fine, handmade porcelain container featuring an intricately sculpted interpretation of the floral artwork.????
The new White Narcisse Collection is available for purchase at Neiman Marcus stores and NeimanMarcus.com, Bergdorf Goodman and BergdorfGoodman.com, Shop.NESTFragrances.com, and select specialty boutiques and retailers nationwide.
The White Narcisse Collection includes (all prices are SRP): Classic Candle, 8.1 Oz. (230g) for $ 48; Body Wash, 200 mL (6.7 Fl. Oz.) for $ 34; Body Cream, 200 mL (6.7 Fl. Oz.) for $ 34; Body & Soul Eau De Toilette Spray, 100 mL (3.4 Fl. Oz.) for $ 48; Luxury Gift Set, $ 98.
MEDIA: To inquire about obtaining product samples and high-resolution images, please contact Tim Rossi (contact information above).
About NEST Fragrances

Founded by renowned fragrance expert Laura Slatkin, NEST Fragrances (NEST) is a leading lifestyle fragrance brand that designs and manufactures a wide assortment of luxury scented products for the bath, body and home. Featuring a variety of exceptional personal care, home fragrance and fine fragrance collections, NEST combines chic packaging with exquisite fragrances specifically designed to enhance one's everyday living and entertaining experience. Well-known for her impeccable sense of style, Laura Slatkin created NEST Fragrances for those who aspire to enrich their lives and environments with the essence of luxury, sophistication and beauty through fragrance. NEST Fragrances products are sold at Bergdorf Goodman, Neiman Marcus, Saks Fifth Avenue, Bloomingdale?s, and a wholesale customer network of more than 1,000 boutique stores across the U.S. For more information, visit http://www.nestfragrances.com. NEST can also be found on facebook, Twitter and Pinterest.
# # #